Description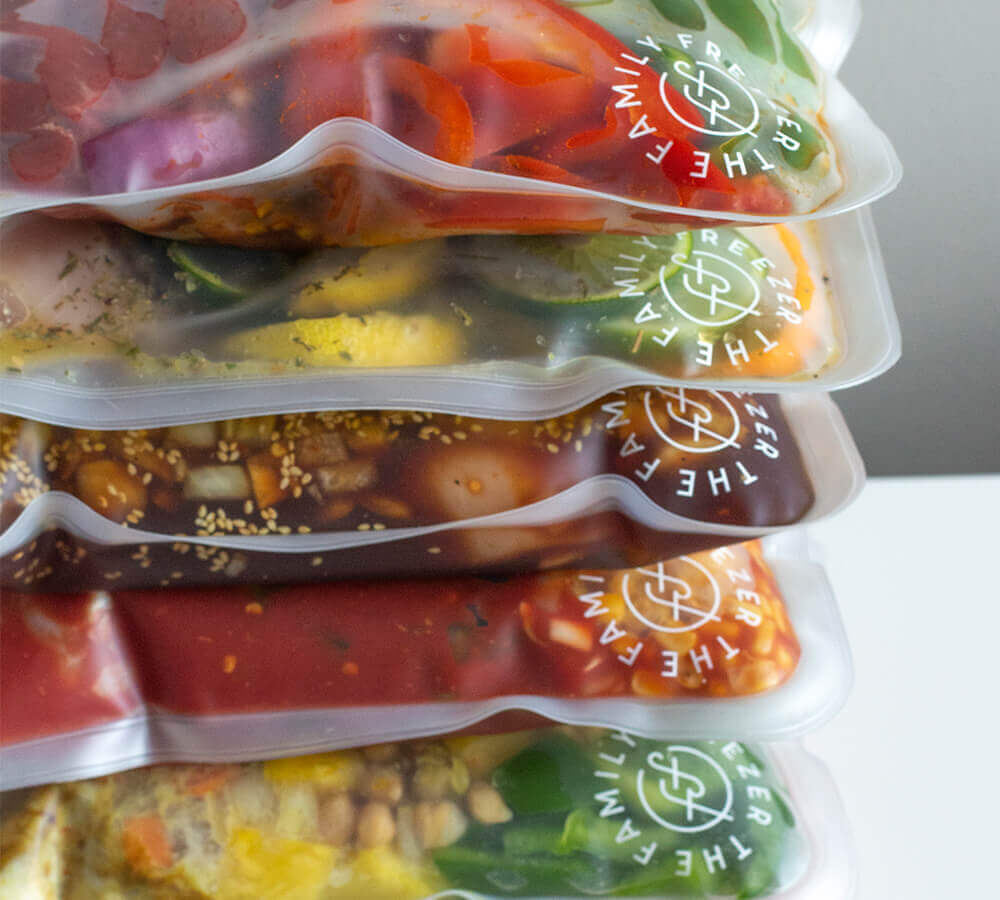 Why reusable freezer bags?
The idea for reusable freezer bags came about when I was making a bunch of slow cooker freezer meals at once in disposable freezer bags.
People kept asking me, "Is there a reusable option? Is there anything that can store these meals that can be used again and again?"
I spent hundreds of dollars buying reusable food-safe bags that I found online and tested them myself.
Unfortunately, they were difficult to clean, hard to close, and some of them leaked! They were too expensive and I had to modify my recipes because the bags were too small!
That just wasn't good enough.
"The perfect reusable bags for our style of freezer meals."
I realized I needed to create the perfect reusable bags for our style of freezer meals.
After months of back-and-forth and testing, I finally have reusable bags that function exactly like disposable freezer bags!!
The BPA-FREE PEVA material is comparable to disposable freezer bags in its flexibility and strength. They are a true gallon size, so no modifying recipes. They are even easy to clean!
Not only are these reusable freezer bags good for the environment, but they don't stick together in your freezer. They don't leak when thawing in your refrigerator. They are really sturdy and really affordable!
Each purchase includes 6 bags that are 1 gallon each
All bags are clear with a white seal
Bags are made from food-safe, high quality PEVA material
Hand wash only in hot, soapy water and air dry
Special features: leak-resistant and freezer-safe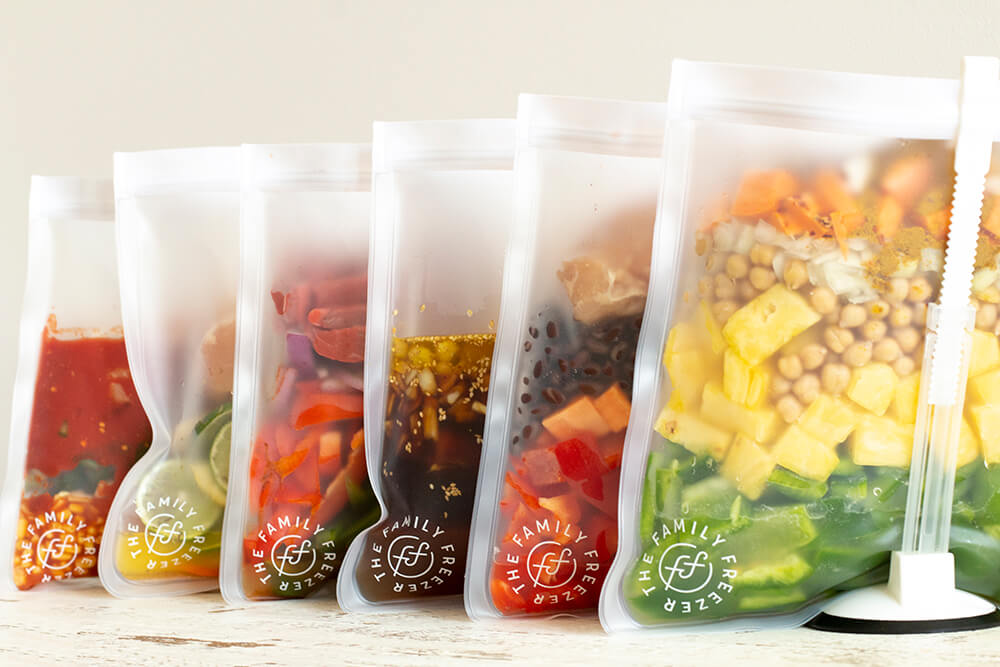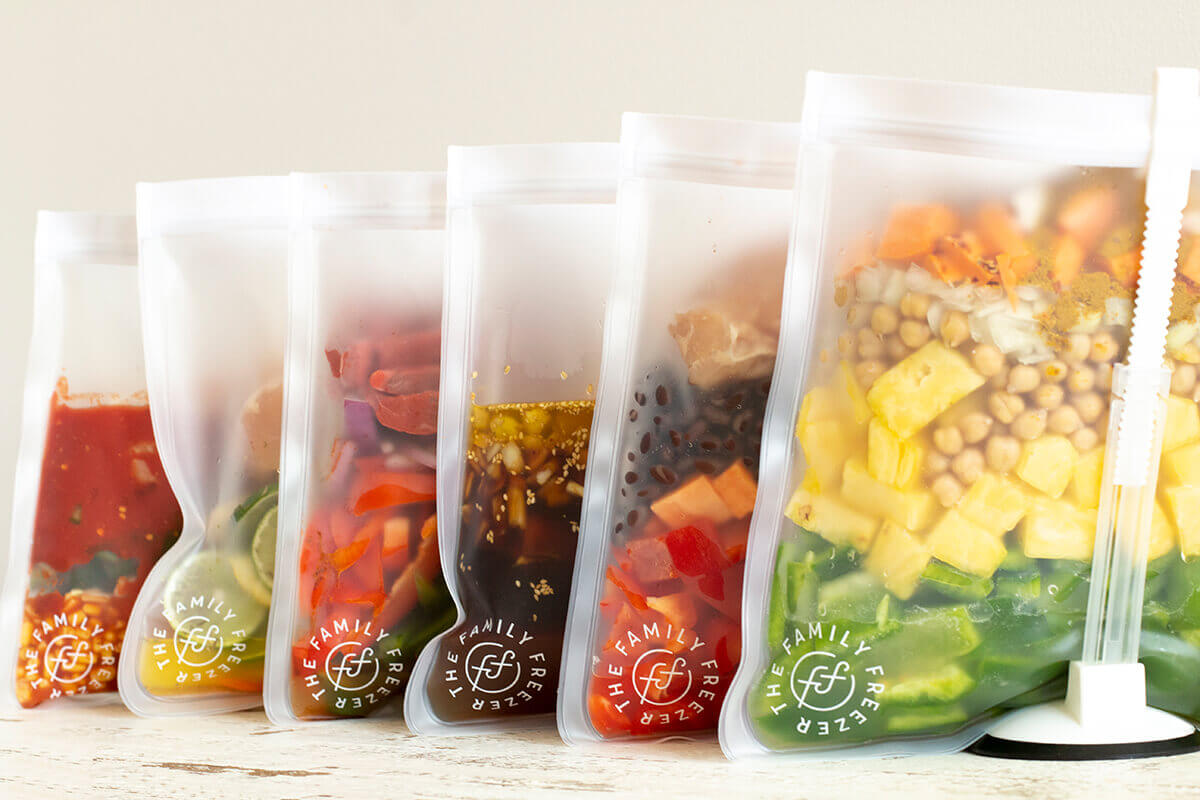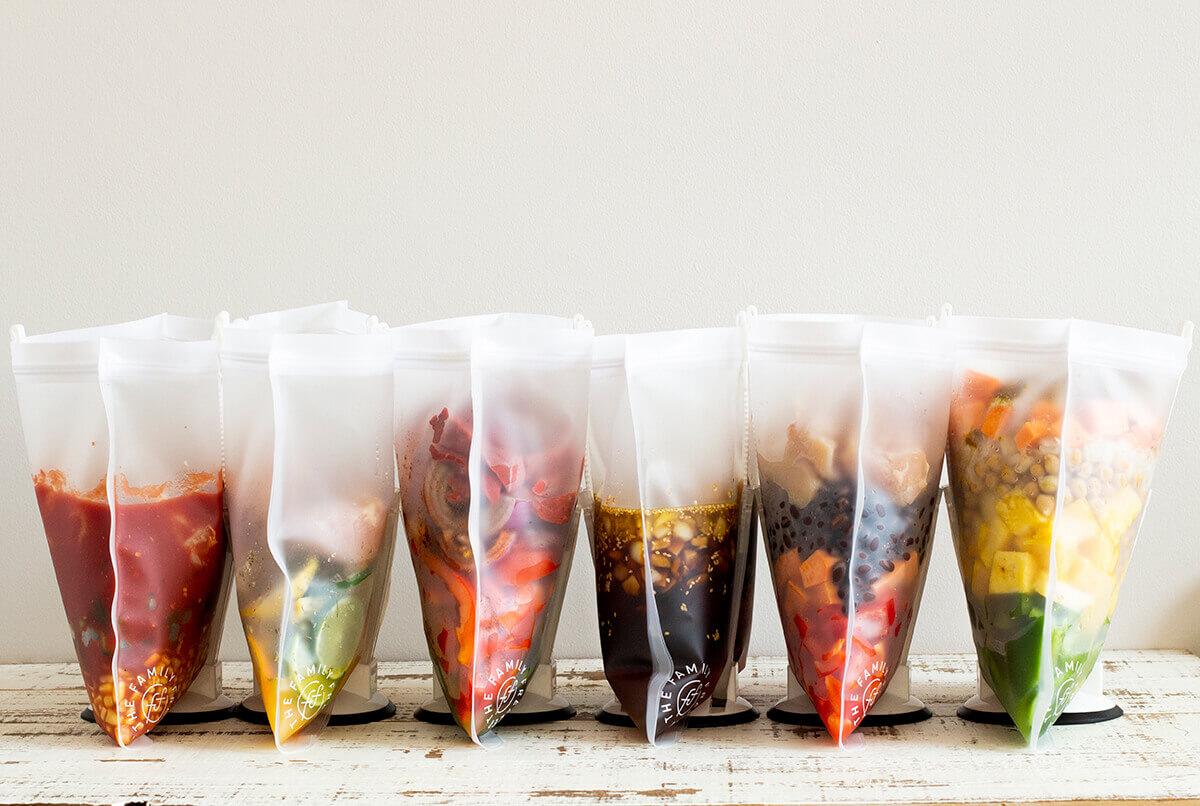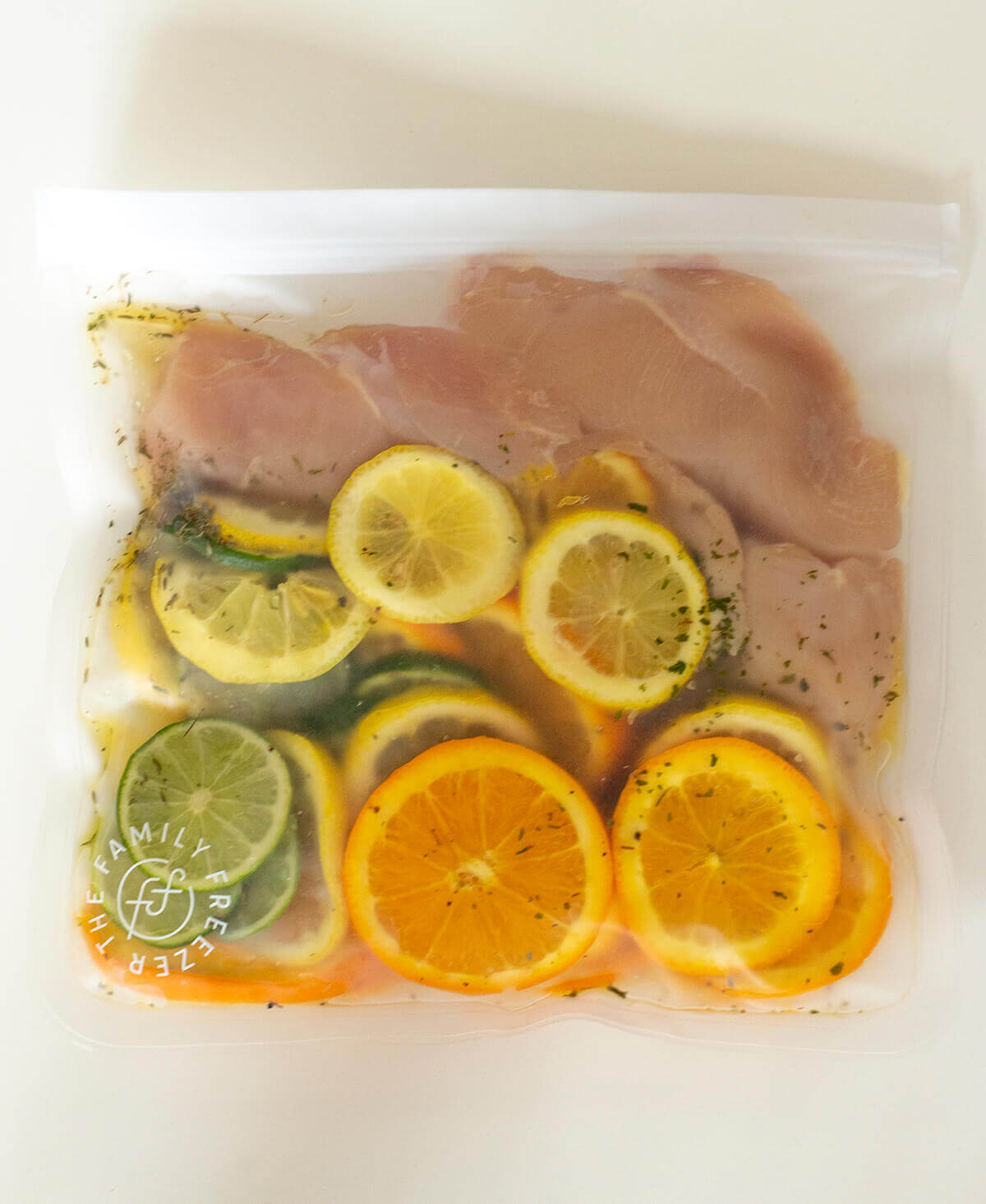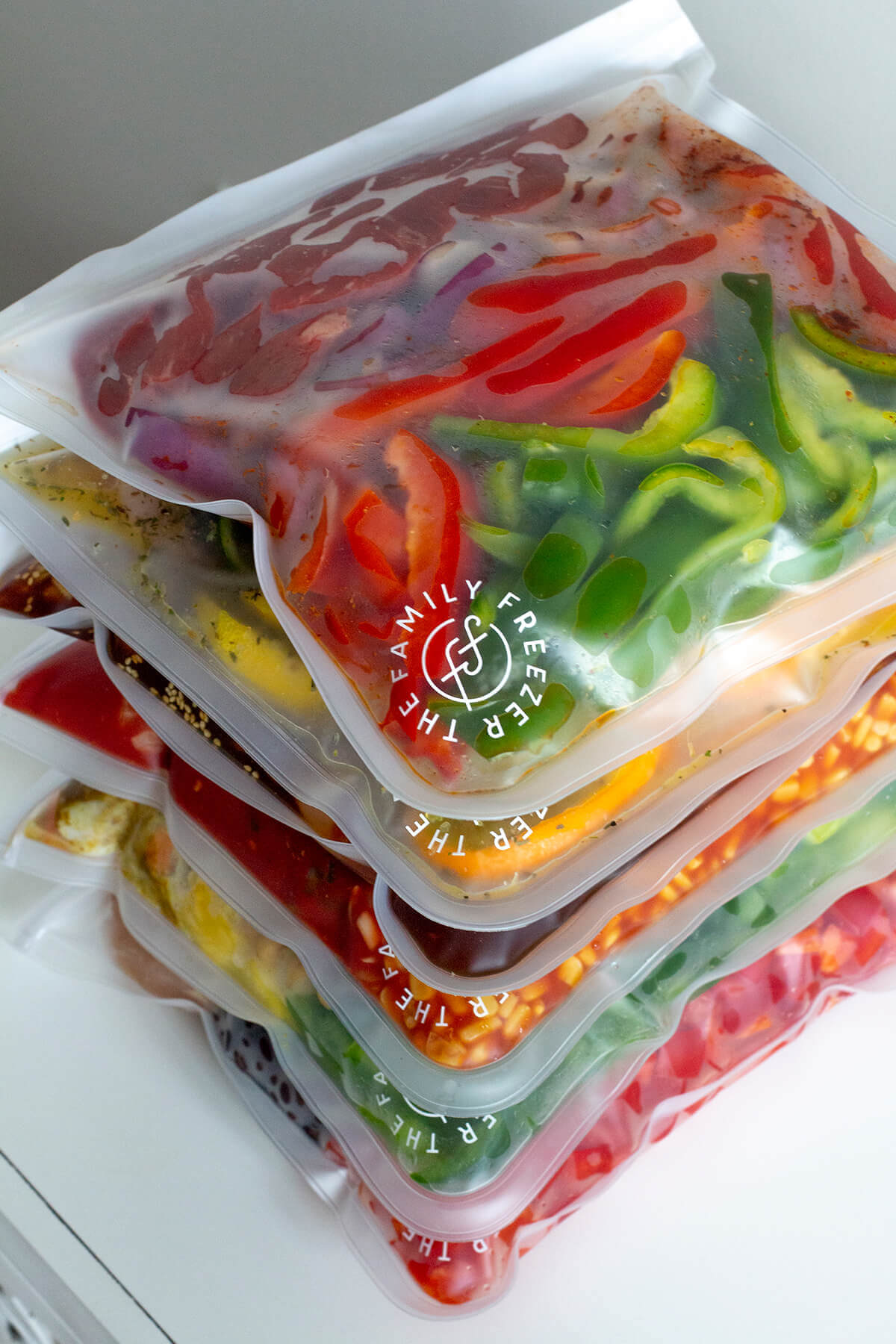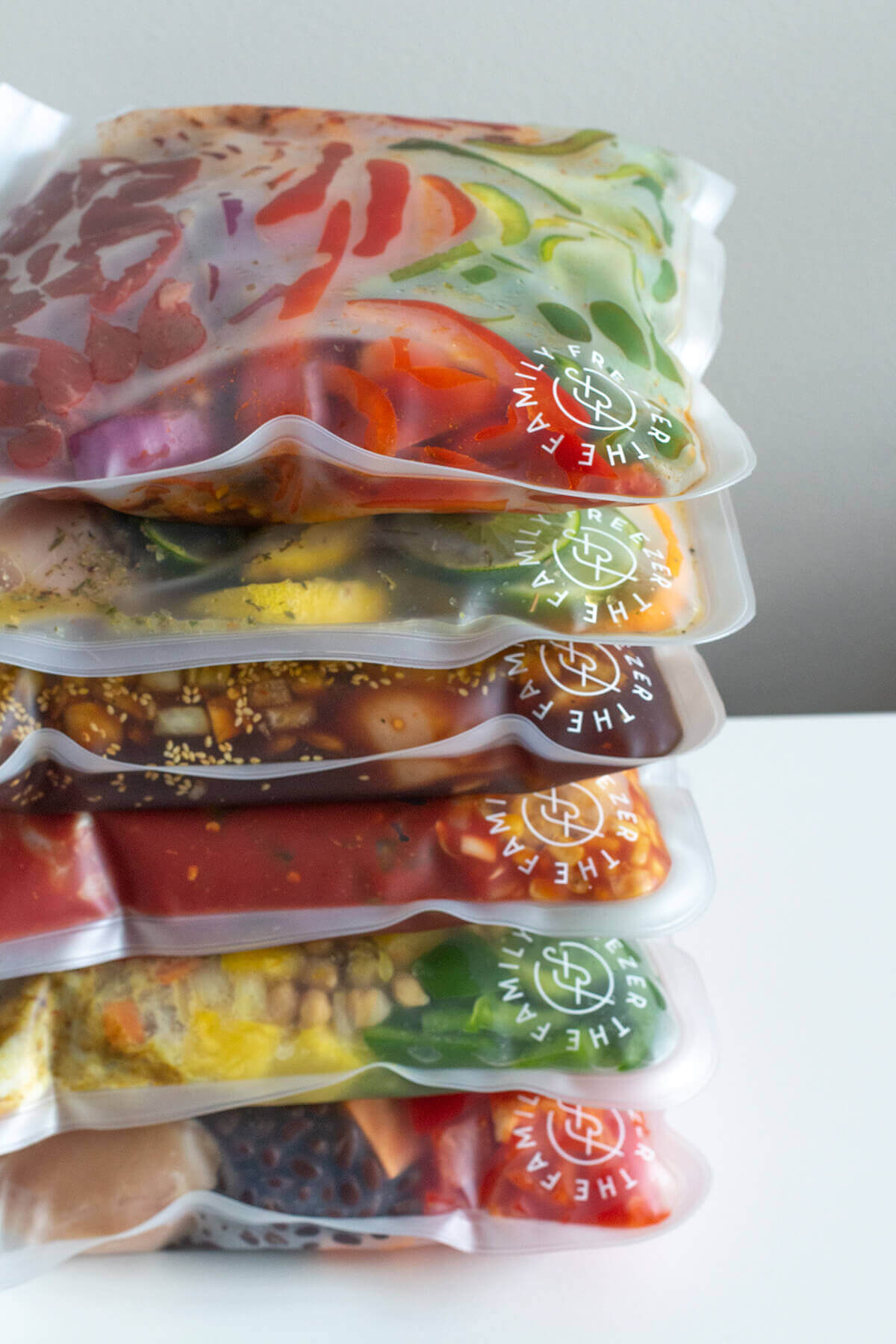 Frequently Asked Questions
How big are these bags?
Great question! Each purchase includes six reusable freezer bags that are similar in size to gallon-sized plastic zipper bags. They are the perfect size for freezer meals with 4-8 servings.
Are they easy to clean?
Absolutely! Each bag can be cleaned in 60 seconds or less. Simply turn inside-out and wash with hot, soapy water. Air dry.
Do the bags smell?
The bags are NOT made from plastic and, therefore, do not have a plastic-type smell. Simply wash and dry inside-out between uses to avoid any type of lingering food smell.
Where are the bags manufactured?
After thorough research and testing bags from several manufacturers, we settled on a manufacturer in China to produce our bags. We're very happy with them!
Do the bags stain?
Bags used to store meals with tomato-based ingredients can stain (and probably will!). To remove stains, dry your bags outside in the sunshine. I typically reuse my stained bags to make more tomato-based meals and keep my ultra-clear bags for other recipes. You are also welcome to embrace the stains. Mother Earth thanks you! 🙂
What is your refund policy?
We know you are going to love our bags and want to keep them! Therefore, all sales are final. The bags are shipped from a warehouse in California so we are not able to accept returns at this time. If you receive a bag with a manufacturing defect (such as a broken seal), please email us so we can consider replacements on a case-by-case basis.
Do the bags affect the taste of the freezer meals?
I understand your concern so I purchased several sets of bags to test myself over the past year. I am happy to report that they do not affect the taste of cooked freezer meals. In fact, they might actually make them taste better because I'm so happy that I'm saving the environment when I'm using them!
How do you recommend labeling these bags?
You have lots of options! I typically labels my bags with water-resistant Avery stickers (#22827). You can also print labels on regular computer paper and attach to bags with clear shipping tape. Lastly, grease pencils (sometimes labeled as "China markers") work well too.