Description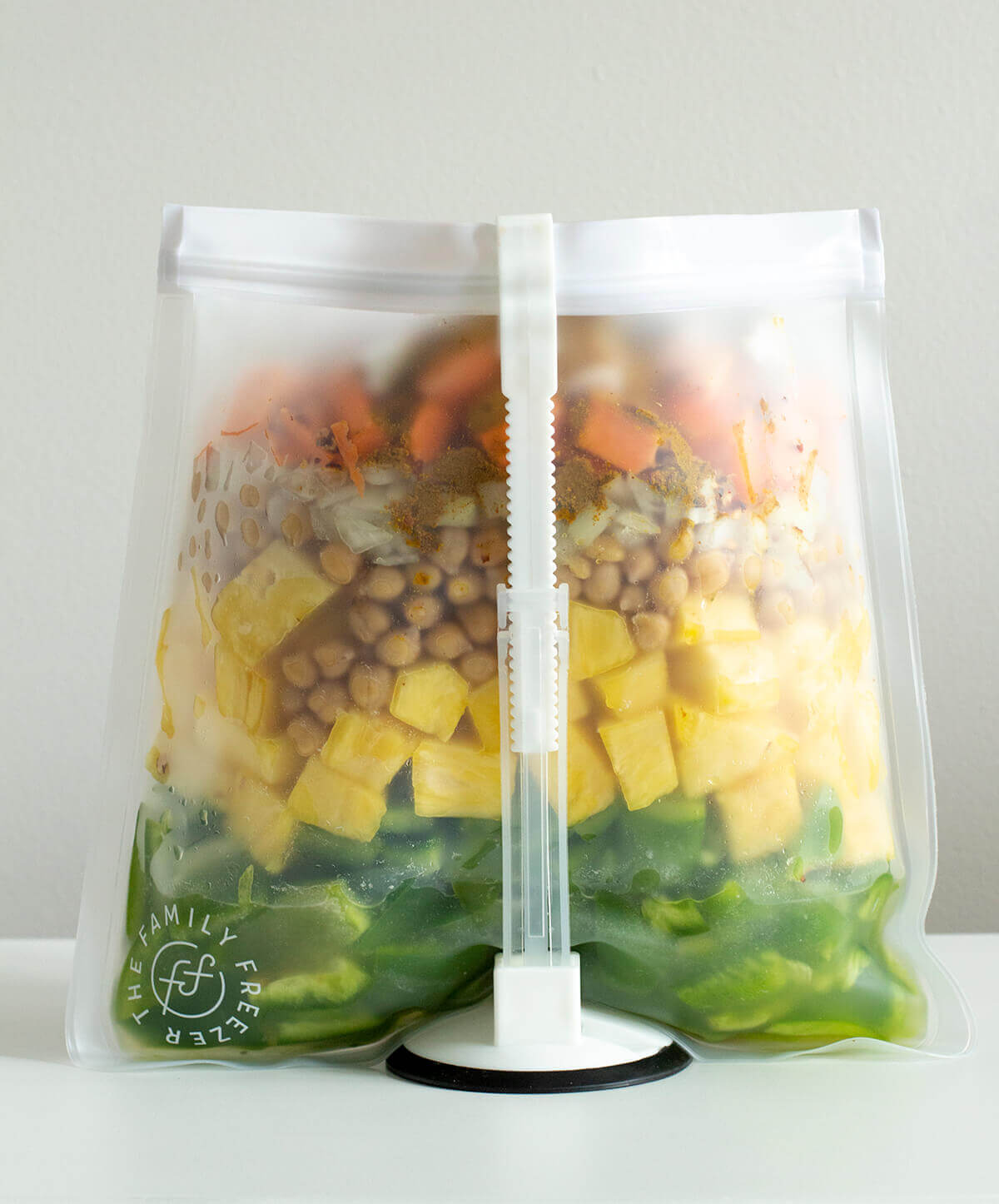 Why baggy stands?
The idea for these baggy stands started back in 2012. I was making a bunch of freezer meals at once and would fill them in an assembly line...but I noticed that when the bags were full of ingredients and sauce they had a tendency to fall over and spill (which is not fun at all!).
I vividly remember a time when I was prepping a freezer bag of meatball and veggie soup with a tomato sauce base. As I turned to grab the next ingredient, the bag slumped and then dumped. I wanted to cry. (I probably did cry.) There was sauce all over the counter, the floor, and everything in between!
"Essential for making freezer meals in bulk."
I immediately went searching for something to hold up the bags while I loaded them. Ta-da! Enter these amazing baggy stands!
The baggy stands that I created are simple and sleek in color and design. The arms adjust to fit both gallon and quart-sized bags. They are dishwasher-safe. The arms fold down so they lay flat and are easy to store. And, maybe most importantly, they hold my freezer bags upright without a single spill!
These baggy stands are super convenient, practical little tools that are essential for making freezer meals in bulk!
Each purchase includes 6 baggy stands
All baggy stands have a black and white base and white arms
Individual baggy stands measure 3.63 x 1.2 x 7.38 inches
Top rack dishwasher-safe or hand wash
Fold flat to store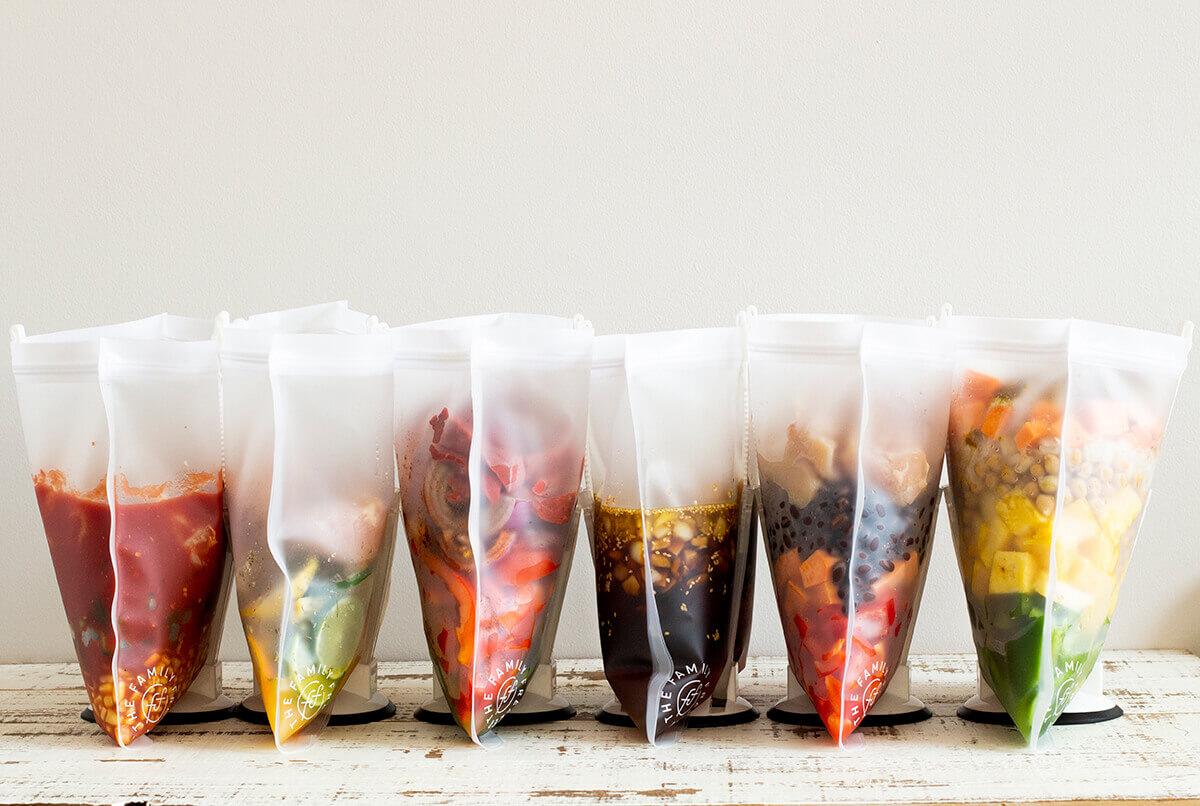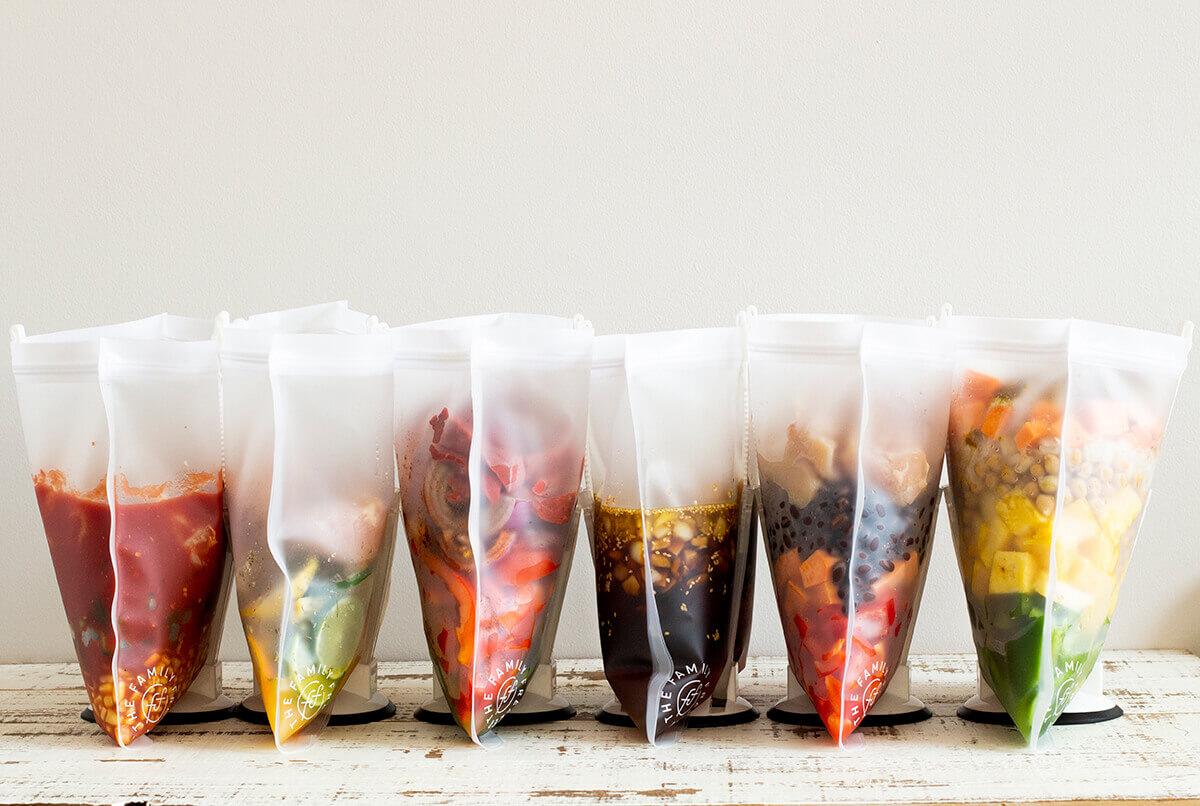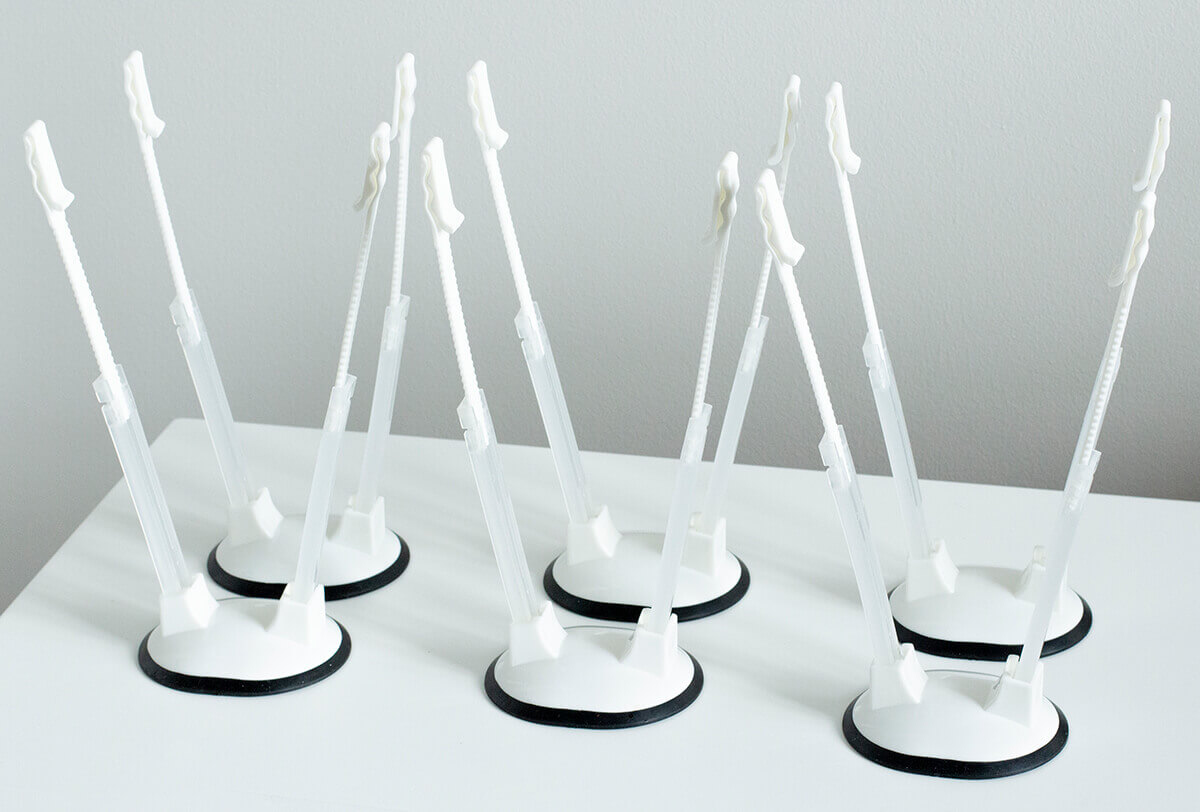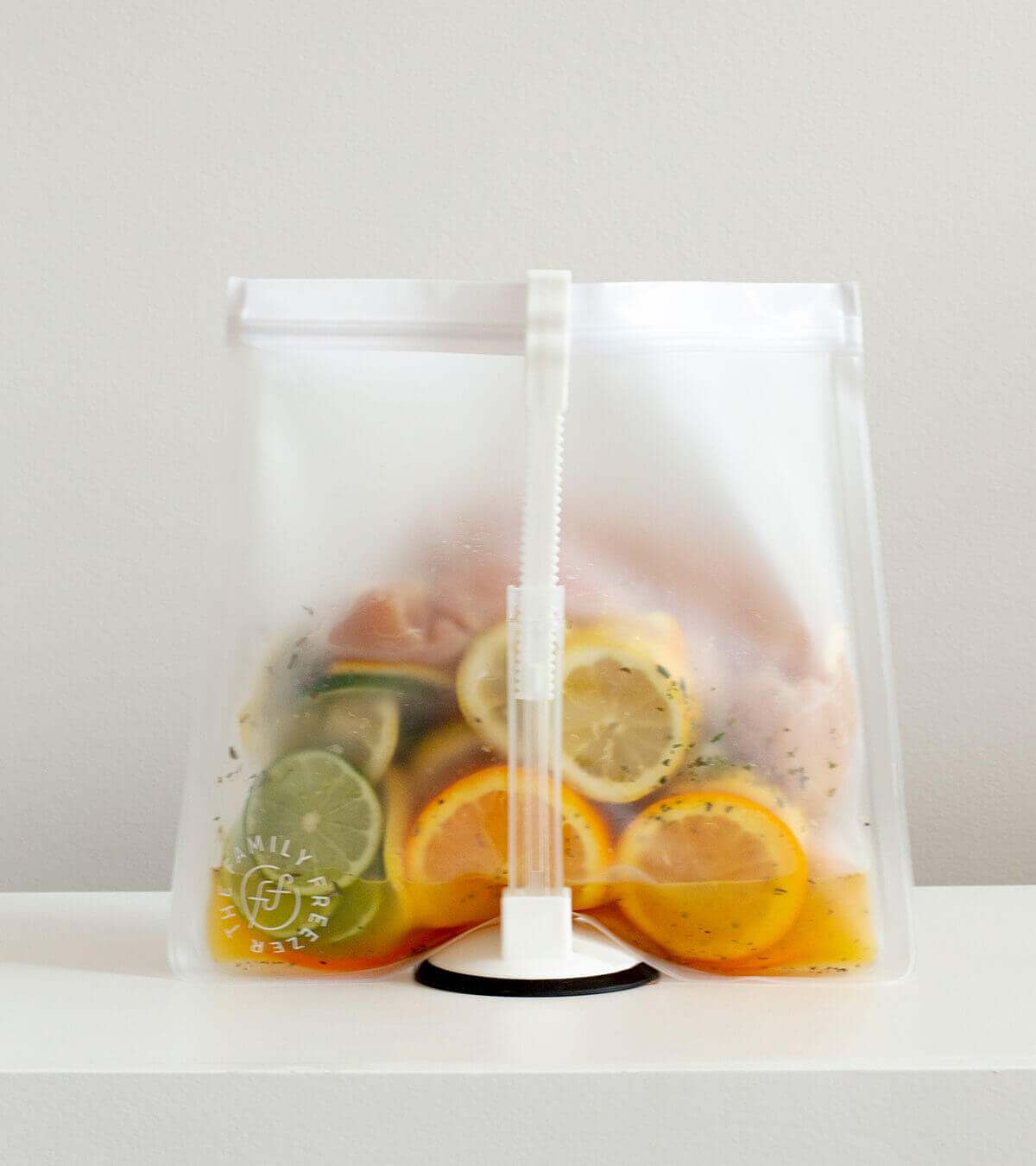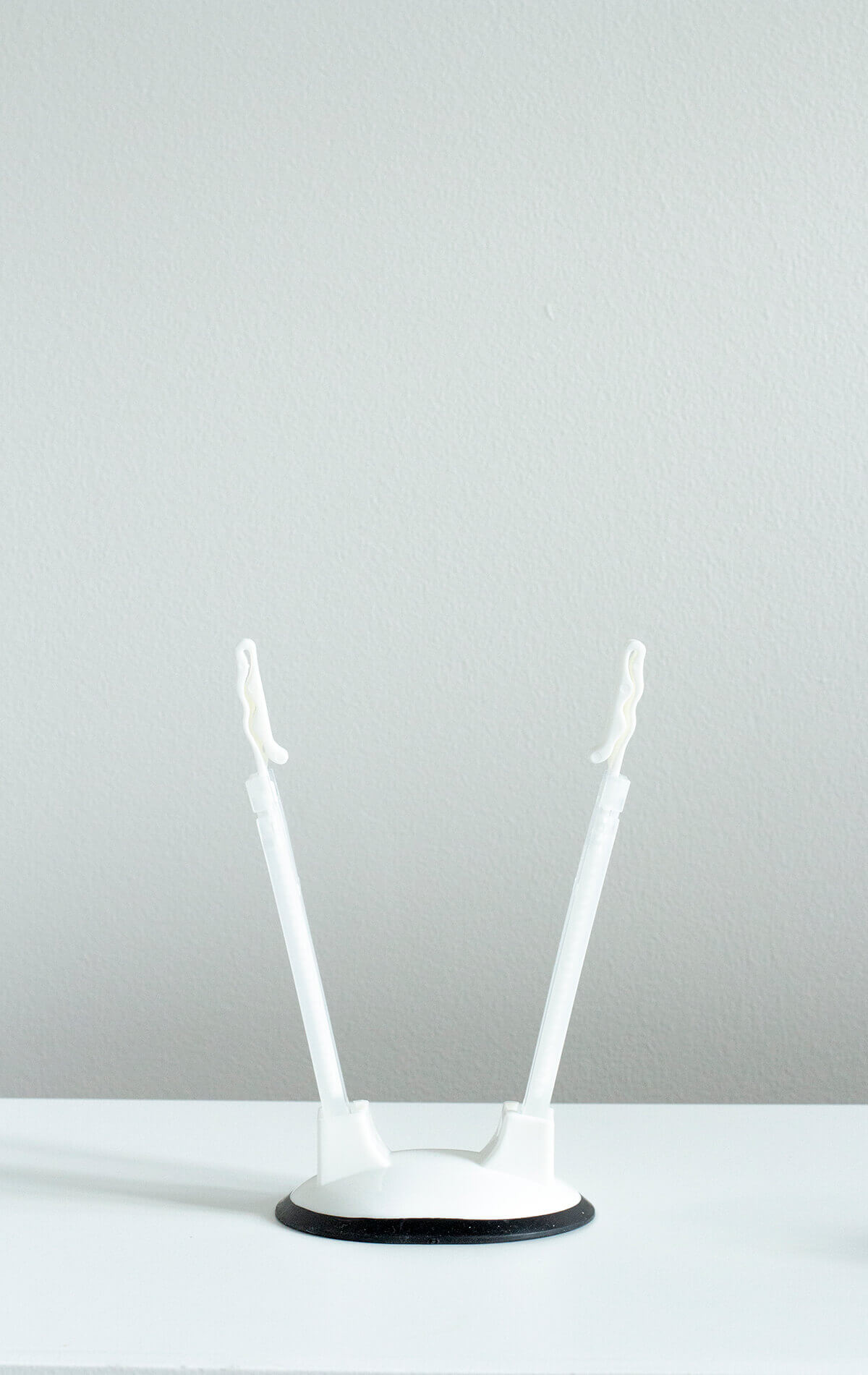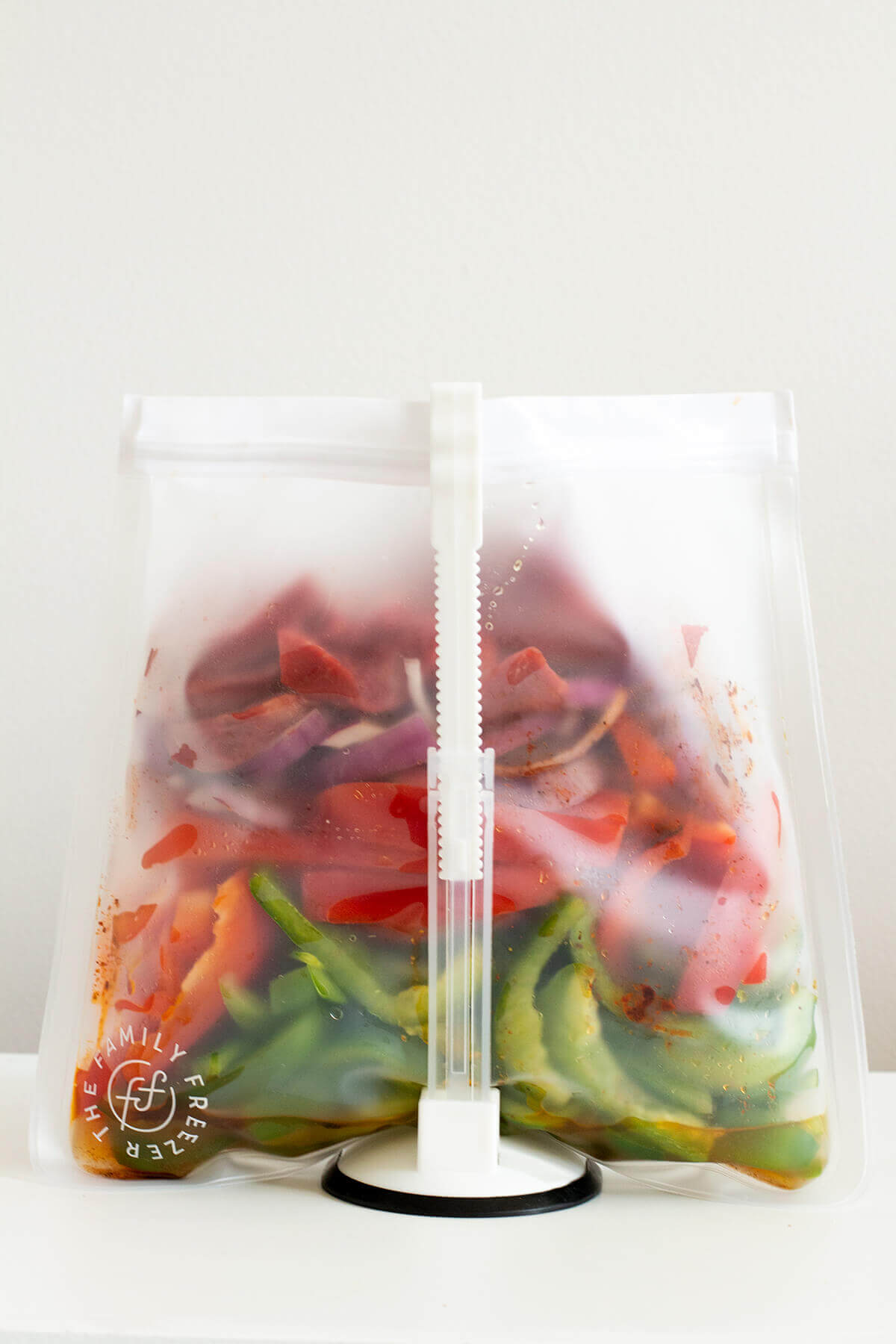 Frequently Asked Questions
Which sizes of bags are compatible with these stands?
Great question! These baggy stands can hold sandwich-sized, quart-sized, or gallon-sized bags. All you need to do is adjust the arms up or down to fit the height of your bag.
Can the baggy stands be folded flat for storage?
I love how easy it is to store these baggy stands! Simply fold down the arms and store them flat in your kitchen drawer or pantry storage box.
Are they dishwasher-safe?
My baggy stands rarely get dirty. If food gets on the top clips, I clean them with hot, soapy water or place them in the top rack of the dishwasher.
Where are they manufactured?
After thorough research and testing baggy stands from several manufacturers, we settled on a manufacturer in China to produce our stands. We're very happy with them!
Do the bottoms suction to the countertop?
This is an interesting idea, but the bottoms simply sit on the countertop. They do not have suction cups. I am happy to report that I have used these baggy stands to make thousands of freezer meals and knocking them over hasn't been an issue for me!
What is your refund policy?
We know you are going to love our baggy stands and want to keep them! Therefore, all sales are final. The baggy stands are shipped from a warehouse in California so we are not able to accept returns at this time. If you receive a baggy stand with a manufacturing defect, please email us so we can consider replacements on a case-by-case basis.